Top promoter of Hawaii's nightlife, underground, lounge and rave music culture. Honolulu, Hawaii, Oahu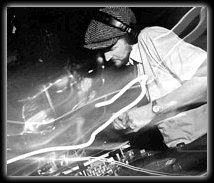 Garth/Wicked/Rocket/Crosstown Traffic Bio:
Garth is a royal pain in the arse.
At his San Francisco parties Wicked, Come Unity, Full Moons, Roots & Back2Back he's been bringing down the house for the better part of two decades. Tapping into the city's unique energy, he helped reignite the flames of conscious hell raising that existed here in generations past.
Those Full Moon parties ushered in an era of Acid House hysteria that ripped through the west coast and spread into the heartland. The Wicked crew are credited widely with having kick started the city's dance scene in the early 90's furthering its reputation as the red headed step child of disco.
From his highly coveted 10 year residency at Come Unity, where he'd have early morning revellers all join hands in ecstatic abandon to Wicked's 13 year odyssey as the City's rulin' sound system - it's fair to say the guy's made an impact.
Wicked were shooting for the sky. So scoring a custom designed Turbosound rig and a 1947 Greyhound bus whose previous owners were a gospel choir, they set about spreading their gospel to seekers far and wide.
The same bus provided Garth with the inspiration to start his own label in 98. With over 50 singles under the belt Grayhound has been a constant thorn in the side of easy listening House. His breakout anthem 'Twenty Minutes of Disco Glory' shook things up internationally & he now has 40 singles to his name, many on his own label. He has remixed the likes of The Glimmers, Perry Farrel (Janes Addiction), Yabby You and Tribe Called Quest. He has recorded mix CDs for Om, NRK, Thrive & Grayhound.
With an ungodly appetite for challenging dance music of all persuasions... acid rock, disco, dub reggae, house & electro, he keeps himself and others awake trying his damndest to mix them together on weekends. He travels the world like a refugee lugging a crate or two of his favorite vinyl to Japan, Spain, England, France, Germany, Mexico, Canada, Australia, Singapore, Thailand, even Indonesia & Malaysia crashing parties upon request.
On the home front he throws an intimate monthly shindig called Back2Back in San Francisco with comrade Jeno. Nobody gets hurt.
Featured Product/Service
<!PDF LINK>
<!998Template_start>
DJ Daniel J
One of Hawaii's renowned DJ and Promoter
Production Services
Love and Light Productions services caters to events from the smallest most intimate affairs to large elaborate productions. We truly can work with any budget and offer a broad range of services.
Audio Rental
Love and Light Productions provides audio rental services to consumers and the entertainment industry in Hawaii on the islands of Oahu and Maui.
<!998Template_end>
---
Please send questions about this website to