Top promoter of Hawaii's nightlife, underground, lounge and rave music culture. Honolulu, Hawaii, Oahu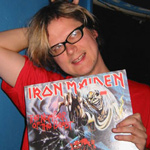 BIO
Michael Donaldson AKA Q-Burns Abstract Message is one of the United States' most dynamic and eclectic DJs. His sets have been moving dancers around the globe for many years now and Q-Burns' fan base includes many die-hard devotees. His sound is that of a big party going down, unique and diverse house tracks glued together by pure funk.
Donaldson has been DJing for over ten years. Inspired by funk pioneers such as Kool and the Gang, Earth Wind and Fire, and Marvin Gaye, Q-Burns sought to move his crowds with current house sounds in the spirit of classic soul music. His DJing style developed during extended stays in San Francisco where he found himself influenced by the 'good time + anything goes' attitude of his friends in the Hardkiss and Wicked crews. Now, Q-Burns DJ sets are tightly wound coils of funk and house, with Donaldson himself found moving and waving around as frantically as the dancers on the floor.
Q-Burns Abstract Message's DJing career has had many impressive highlights. Q-Burns has toured as a DJ in the US with artists as renowned as The Chemical Brothers, Fatboy Slim, Gus Gus, Josh Wink, Meat Beat Manifesto, and Lo-Fidelity All Stars. He has also toured internationally in such countries as England, Germany, Iceland, Chile, Australia, and Russia. Q-Burns Abstract Message was actually the first US DJ to ever play in Siberia.
With the June 2001 release of his second album for Astralwerks ( Invisible Airline ), Q-Burns' fan base will grow even larger. His DJ gigs will also include many exclusive remixes from the album as well as unreleased tracks.
[more q-burns facts] |[q-burns rough guide listing]
Additional Data:
Based in Orlando, Florida but also partly based in San Francisco.

Q-Burns Abstract Message is signed to Astralwerks as a recording artist, and co-owns Eighth Dimension, his own record label.

Q-Burns A.M. is a rare DJ who can play a number of styles to suit the event... from deep house to downtempo, breakbeat to funky techno.

Named one of the 100 best DJs in the world by Sweater Magazine.

Was the tour DJ for Icelandic 4AD band Gus Gus in the Autumn of 1997, and with the Chemical Brothers for a short stint in Spring 1997.

Toured as part of Om Records' 'Deep Concentration' tour with Cut Chemist, Peanut Butter Wolf, and Prince Paul in Fall 1997.

Did full US tours as a live PA supporting Meat Beat Manifesto + Josh Wink (November 1998) and Lo-Fidelity All Stars (June 1999).

Named one of 22 best American electronic artists by Spin Magazine.

Voted "Best DJ of the Year" two years in a row (1997 + 1998) by the Orlando Weekly.
Featured Product/Service
<!PDF LINK>
<!998Template_start>
DJ Daniel J
One of Hawaii's renowned DJ and Promoter
Production Services
Love and Light Productions services caters to events from the smallest most intimate affairs to large elaborate productions. We truly can work with any budget and offer a broad range of services.
Audio Rental
Love and Light Productions provides audio rental services to consumers and the entertainment industry in Hawaii on the islands of Oahu and Maui.
<!998Template_end>
---
Please send questions about this website to