Top promoter of Hawaii's nightlife, underground, lounge and rave music culture. Honolulu, Hawaii, Oahu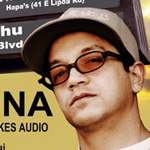 BIO WEBSITES ON Mark Farina:
http://www.dopedenproductions.com/page10/page10.html
http://aptentertainment.com/html/djmarkfarina.htm
Learn about Mark Farina
http://www.markfarina.net/
http://om-records.com/
http://www.myspace.com/markfarina
ABOUT MARK FARINA
Shortly after Mark befriended Derrick Carter in 1988 at a record store in Chicago, his passion for House music, and sharing it with the world, exploded. Mark experimented with a deeper style, dropping De La Soul, disco classics and other stuff that wasn t being played in the main rooms of nightclubs. While exploring his love for the purist forms of House Music, Mark developed his trademark style: Mushroom Jazz; acid jazz infused with the West Coast s jazzy, organic productions along with urban beats. Fans embraced Mark s downtempo style so much that he started a weekly Mushroom Jazz club night in San Francisco with Patty Ryan. In 3 short years, the club established a fanatical, cult-like following for Farina and the Mushroom Jazz sound. When the doors closed, Farina continued the tradition by releasing a series of Cds, Mushroom Jazz . Since then, Mark has been traveling the globe performing 100s of shows, to over one million club goers, a year. His House sets take fans on journeys to the jazzy side of Chicago House mixed San Fran style. Some of these sets have been known to last up to 8 hours. And sometimes you ll find Mark playing in two different rooms at the same party, showcasing his range of rocking the big room sound to the uber-chill. Farina s taste making skills continue to turn the heads of crowds worldwide and consistently draw new fans to his style of chunky funky rhythms and deep underground house. URB, MUZIK and BPM Magazines have all had him on their Top DJ s In The World lists.
Featured Product/Service
<!PDF LINK>
<!998Template_start>
DJ Daniel J
One of Hawaii's renowned DJ and Promoter
Production Services
Love and Light Productions services caters to events from the smallest most intimate affairs to large elaborate productions. We truly can work with any budget and offer a broad range of services.
Audio Rental
Love and Light Productions provides audio rental services to consumers and the entertainment industry in Hawaii on the islands of Oahu and Maui.
<!998Template_end>
---
Please send questions about this website to