Top promoter of Hawaii's nightlife, underground, lounge and rave music culture. Honolulu, Hawaii, Oahu
Ongoing Events
Love & Light Production
Event Calendar Item

Rob Swift and DV One - In Hawaii - January 2005

Type:

Event


Date:

Monday - 1/3/2005


Time:




Location:





Cost:

TBA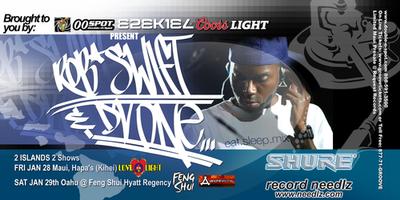 LEGENDARY TURNTABLIST PERFORMING IN HAWAII
Shure artist endorser Rob Swift to perform at club and host clinic
NILES, IL, January 3, 2005 - Shure Incorporated, makers of the phono cartridges of choice for champion DJs worldwide, is bring artist endorser Rob Swift to the Hawaiian islands for two special club events and an in-store clinic. The events will be a rare look at one of the art form's pioneers in the music and technique of turntablism.
The two events will feature Rob Swift, formerly of the turntablist group the X-ecutioners, and Seattle DJ DV One, of the Rock Steady Crew. The first event is Friday, January 28th and will be held at "Hapa's", 41 East Lipoa, Kihei, Maui. The second event is in Honolulu on Saturday, January 29th at "Feng Shui" in the Hyatt Regency Waikiki Resort & Spa.
Before Saturday's event, Rob Swift will demonstrate the art and answer questions from fans at an in-store clinic at Creative Sound & Lighting in Kanoehe.
"Shure is proud to be a part of many of the amazing performances we have seen over the years from the world's premier DJs," said Bill "Needlz" Oakley, Phono Product and DJ Artist Relations Manager of Shure. "With the events on the two islands and the in-store clinic, we hope we can bring another unique performance to the aspiring turntablist in Hawaii. We're thrilled to contribute to the growth of the art in this way and work with the artists who endorse Shure and continue to push the boundaries."
The clinic is intended for all ages and various interests in turntablism. The club events are 21 and over.
Shure M44-7: Needle of Champions
The Shure M44-7 phono cartridge is the legendary battle needle chosen by DJs and turntablists. The needle offers ultra-high skip resistance and ultra-high output. Combining Shure's unique wide-diameter Type S cantilever with a tracking force of 1.5 to 3.0 grams, the M44-7's rugged construction is highly durable, without unduly wearing your vinyl. With a 9.5 mV output, the highest on the market, the M44-7 produces a very powerful and resonant sound that has been tested by many of the top DJs in the world, including world champions such as Qbert and Mixmaster Mike, and has been endorsed by artist such as A-Trak, The World Famous Beat Junkies and the X-ecutioners.
About the Artists
ROB SWIFT
Whether he's droppin' beats hard and strong or rockin' a salsoul beat with jazz master Bob James, turntable composer Rob Swift is all killa and no filla on the decks. A dedicated artist, a turntable maverick and the ablist DJ to come along since the form's mixmaster pioneers, it's Swift's destiny to be a major deal on the wheels of steel.
Born in 1972 and raised in Jackson Heights, Queens, Swift initially learned to rock the house with some hands-on help from his DJ dad and older brother. By 1991 he turned pro musician when he joined the world-class crew of turntablists, the X-ecutioners. In 1992, he was named DMC East Coast turntable champion. In 1993, he began producing and remixing tracks for other artists: Cornershop, Lords of Acid and the Altered Beats album for Bill Laswell's Axiom label are among his growing list of credits.
In 1999, Rob dropped his first solo album, The Ablist (Asphodel). SPIN called his two-Technics technique "mind-boggling," comparing it to "Wizardy." VIBE called it a "brilliant debut." In 2001, Swift added his scratches and a track called "My Name is Rob Swift" to Herbie Hancock's Future 2 Future album. He contributed "Blues for Bob and Rob" with Bob James to the compilation Turntable Essence (Silva Screen Records).
When it was time for Rob to record his second solo album, Sound Event, (Table Turns, fall 2002) it was only natural he call in his friend James for a cut. The pair cooked-up "Salsa Scratch." In 2002 Swift performed at the World Economic Forum in New York with Herbie Hancock and Chaka Khan. The X-ecutioners' 2002 release, Built From Scratch (Loud/SONY) got the nod from VIBE: "Rocking and rock solid." Paper calls the crew "Virtuoso." Swift also continues to score hi-tech games and television projects and was chosen to be part of the Gap's vanguard artist ad campaign. He has also been featured on avant-garde performance troupe, Blue Man Group's album.
DV One
DV One has used his fine tuned skills on the wheels of steel to reach the masses. Whether it was, rocking parties, taking part in exhibitions, wining local radio mix show awards, teaching DJ Classes, competing in, winning, and organizing DJ battles, he was earning notoriety and respect for staying true to his craft and understanding that he was never bigger than the game.
DV One has performed with numerous big and well respected artists including such names as: Raekwon (Wu Tang Clan), Busta Rhymes, The Liks, Kid Rock, Black Eyed Peas, Ras Kass, Arsonists, Grand Wizard Theodore, Beat Junkies, Mos Def, The Roots, DJ Quik, Ice Cube, Public Enemy, Ice T, Kool Keith, Rahzel, Xzibit, The X-Ecutioners, Invisible Scratch Piklz and many, many more. He also has taken part in the Rock Steady Crew Anniversary celebrations in NYC since 1999 and he was on tour in 2002 DJing for Super Natural, Source of Labor, Dilated Peoples and Jurassic 5 on "The Almost Famous" World Tour.
After being ten toes deep in the game, DV One has proven that he isn't going anywhere. Currently rocking Seattle's Hottest night clubs, including the legendary "Yo' Son" every Sunday, as well as holding it down on the Takeover Mixshow on X104.5 FM every Friday night from 9pm to 3am. He has proven that things change with time but if you stay on your hustle your time will never run out.
###
Ongoing Events
Featured Product/Service
Powered by MBC CalendarMaker

Events subject to change without notice
<!998Template_start>
DJ Daniel J
One of Hawaii's renowned DJ and Promoter

Production Services
Love and Light Productions services caters to events from the smallest most intimate affairs to large elaborate productions. We truly can work with any budget and offer a broad range of services.

Audio Rental
Love and Light Productions provides audio rental services to consumers and the entertainment industry in Hawaii on the islands of Oahu and Maui.
<!998Template_end>
---
Please send questions about this website to