Top promoter of Hawaii's nightlife, underground, lounge and rave music culture. Honolulu, Hawaii, Oahu.
Ongoing Events
Love & Light Production
Event Calendar Item

Mushroom Music Festival with Mark Farina (Oahu-Maui)

Type:

<!EVENTTYPE><!FREQUENCY>


Date:

11/11/2011(Oahu), 11/12/2011(Maui)


Time:

10pm - 4am


Location:


Multiple Location
11th - SOHO - Honolulu, Oahu
12th - TIMBA - Maui
Maui is 21+
Oahu is 18+


Cost:
The 5th Fourth Annual Mushroom Music Festival
Mushroom Music Festival is in its 5th year. Multi Island Mushroom Jazz Music Tour. Has happened on Maui, Kauai, big Island and Oahu. Go Airlines has been an air partner in the past. Featuring Mushroom Jazz Music, bands and DJs. 21+ in Maui.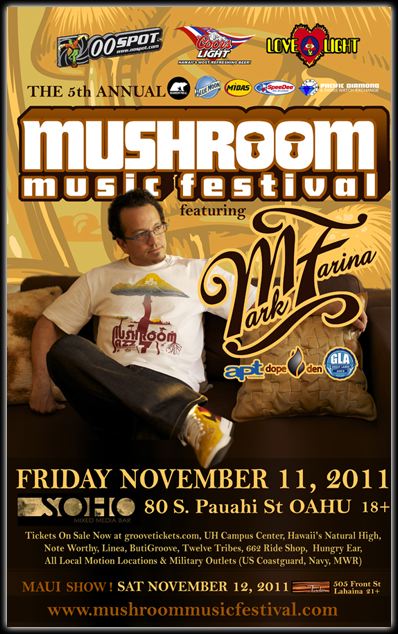 BIO WEBSITES ON Mark Farina:
http://www.dopedenproductions.com/page10/page10.html
http://aptentertainment.com/html/djmarkfarina.htm
MEDIA ARTICLES
View Honolulu Advertiser Metromix Article
Honolulu Weekly
Tom Moffat Column in MidWeek
PreSale Tickets Oahu ($15), Maui($20) @ www.groovetickets.com
Toll Free Phone Tix Purchase Line: 1-877-71-GROOV (47668)
Hungry Ear [Kailua] 808.262.2175
UH Campus Center[Manoa] 808.956.7236
Stylus [University] 808.951.4500
Hawaii's Natural High [Waikiki] 808.926.3000
Pipeline Café Box Office / Hawaii's Natural High [Kakaako] (808) 593-9603
ButiGroove [Piikoi] 808.589.BUTI
Twelve Tribes [NorthShore Marketplace] 808-637-7634
The Warehouse
Tickets Available at all Military Outlets: US Coastguard, Hickam Airforce
Base, Navy MWR, Marine Corp Base
All Local Motion Outlets
Windward Mall (808) 263-7873
Ala Moana Mall (808) 979-7873
Pearl Ridge Mall (Uptown) 808) 234-7873
Hawaii Kai - Koko Marina (808) 395-4737
Waikele (808) 668-7873
Waikiki (808) 254-7873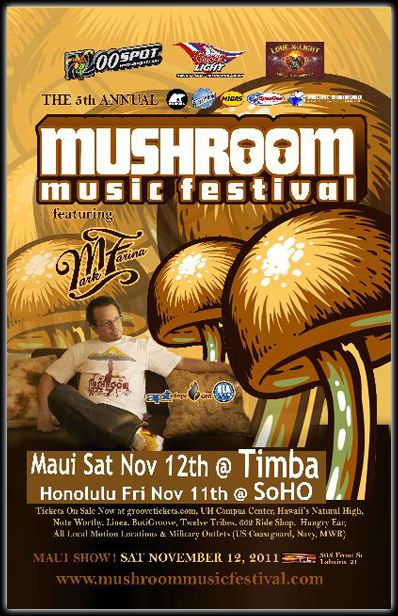 Ongoing Events
---
Please send questions about this website to